About Eric Bohman - For over twenty years, Eric and Lori Bohman have been serving with BIMI, first in Kenya and then in Tanzania. Together with their national leadership, the Bohmans have helped to establish nearly two-dozen churches. Their ministries are located predominately in rural East Africa where the Gospel often has difficulty penetrating because of various tribal beliefs and customs. Besides church planting, the Bohmans have helped to establish two Bible institutes, Bible studies for the deaf, feeding centers, and a small Christian nursery school.
About His Field - In June of 2012, Eric became the Africa Director. Although the responsibilities of this position necessitated the Bohmans relocating back to the States, the family is still connected to their former ministries in East Africa. With many trips back to the African continent each year, Eric continues to assist the nationals in church planting work, while at the same time visiting the on-field missionaries, leading survey trips with potential missionaries, holding regional field conferences, and surveying new countries for future missionary work.
Eric Bohman ~ B.I.M.I. Africa Director

About Erica Bohman - The Lord has blessed me by giving me a Godly heritage and unique experiences which, I believe, have prepared me for missions. I am the daughter of missionaries Eric and Lori Bohman, and for seventeen years I called Africa my "home." While I was there, I accepted Christ as my personal Savior. Two years later, while my family was on furlough, I recognized and surrendered to God's call into missions. It was there that I led my first soul to Christ and fell in love with the ministry and the people. I graduated from Golden State Baptist College in 2016 and served in Franklin Road Christian School's preschool for a year. Now, the Lord has opened the door for me to fulfill His call in my life by assisting the Shelby family in Kenya, Africa.
About Her Field - The country of Kenya is slightly smaller than the state of Texas and is located along the eastern coast of Africa. It is a popular tourist destination because of its beautiful scenery, abundant wildlife, and rich cultures. With a population of approximately 47 million people, nearly half are under the age of 15. I believe it is vitally important for us to reach the young people of Africa with the Gospel before they turn elsewhere. What great potential these young people have for Christ.
About Kason - I grew up in a Christian family that loved and served the Lord. At the age of eleven, I accepted Christ as my personal Lord and Savior. After school, I attended the Our Generation Training Center where I received a Bachelor's Degree in Missions and met my wife Bethany. Although I was saved at the age of eleven, I didn't surrender to missions until the age of eighteen. I was attending a missions conference when God called me to serve Him full time using 2 Corinthians 5:15 "And that he died for all, that they which live should not henceforth live unto themselves, but unto him which died for them, and rose again." It was then that I surrendered my life to missions and God has called me to be a church planting missionary to the country of Ecuador.
About Bethany - I grew up as a missionary kid in the country of Arequipa, Peru. My parents, Michael and DeAnna Staley were missionaries there for 11 years, and it was my mother who led me to the Lord after church one night. Having grown up on the mission field, I was constantly surrounded by the need for the Gospel all around the world, and when I was 17 I surrendered my life to be a foreign missionary. In 2015, I began attending the Our Generation Training Center to prepare for ministry. It was there that I met my husband and we were married in January 2017. God has done great things in our lives, and we are excited for what is to come!
About Their Field - Ecuador gets its name from the fact that the Equator crosses the country. The population of Ecuador is now over 12 million people, of which approximately 61 percent live in urban areas. Since the time of the Spanish conquest, Ecuador has been predominately Roman Catholic, now over 90 percent. Complete liberty of worship is guaranteed by the 1946 constitution. In recent years, a great spiritual awakening has taken place among some of the highland Indians, with thousands being saved. The Christian population has been estimated at only one or two percent.
Kason & Bethany Bloom ~ Ecuador

About Daniel - I was born and raised in Athens, Georgia and trusted Christ as my Savior as a young child. God began to burden my heart for missions as a teenager and upon completion of high school, I attended Bob Jones University in Greenville, SC and graduated with a Bible degree. I traveled to Senegal for the first time in 2015 on a construction missions team, and again in 2016 to help continue the work there. I traveled for a third time in the summer of 2016 to West Africa to survey the country of Gambia and disciple a Gambian believer there in West Africa. During 2016, God led Sarah and I together and confirmed our calling to reach Muslim people in The Gambia.
About Sarah - I was born in Newfoundland, and was raised in Halifax, Nova Scotia. I trusted Christ as my Savior as a young child and upon completion of high school, I attended FaithWay Baptist College in Ajax, Ontario for one year and later graduated as a Veterinary Technician from Oulton College in Moncton, New Brunswick. God's calling to the mission field began when I spent 3 months in 2013 in Senegal, West Africa. A few years later, I met Daniel and together we began preparing for full time missions.
About Their Field - The Gambia is the smallest nation on mainland Africa. A nation of 2 million people that is rich in farmland, fishing, and local trade. "The smiling coast of Africa", as Gambia is affectionately known, is a predominately Islamic country with more than 95% of its citizens identifying as Muslim. Gambia is an English based country with many local ethnic languages and is open to the gospel. National believers are present within this country yet there are no Independent Baptist church planting missionaries in this country. Other denominations that exist within the country include Catholic, Charismatic, and Animism. The needs within The Gambia are many, yet the greatest need for this tiny West African country is Bible teaching and preaching. It is our desire to teach the Bible and train national believers with our focus towards planting and establishing indigenous churches.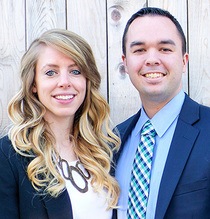 Daniel & Sarah Jenkins ~ The Gambia